A black-eyed peas salad that is fresh and fragrant and has a mediterranean vibe. Greeks love black-eyed peas, they call them mavromatika fasolia and they usually make them as a light salad simple with olive oil, herbs and onions or as a main dish in a light tomato sauce.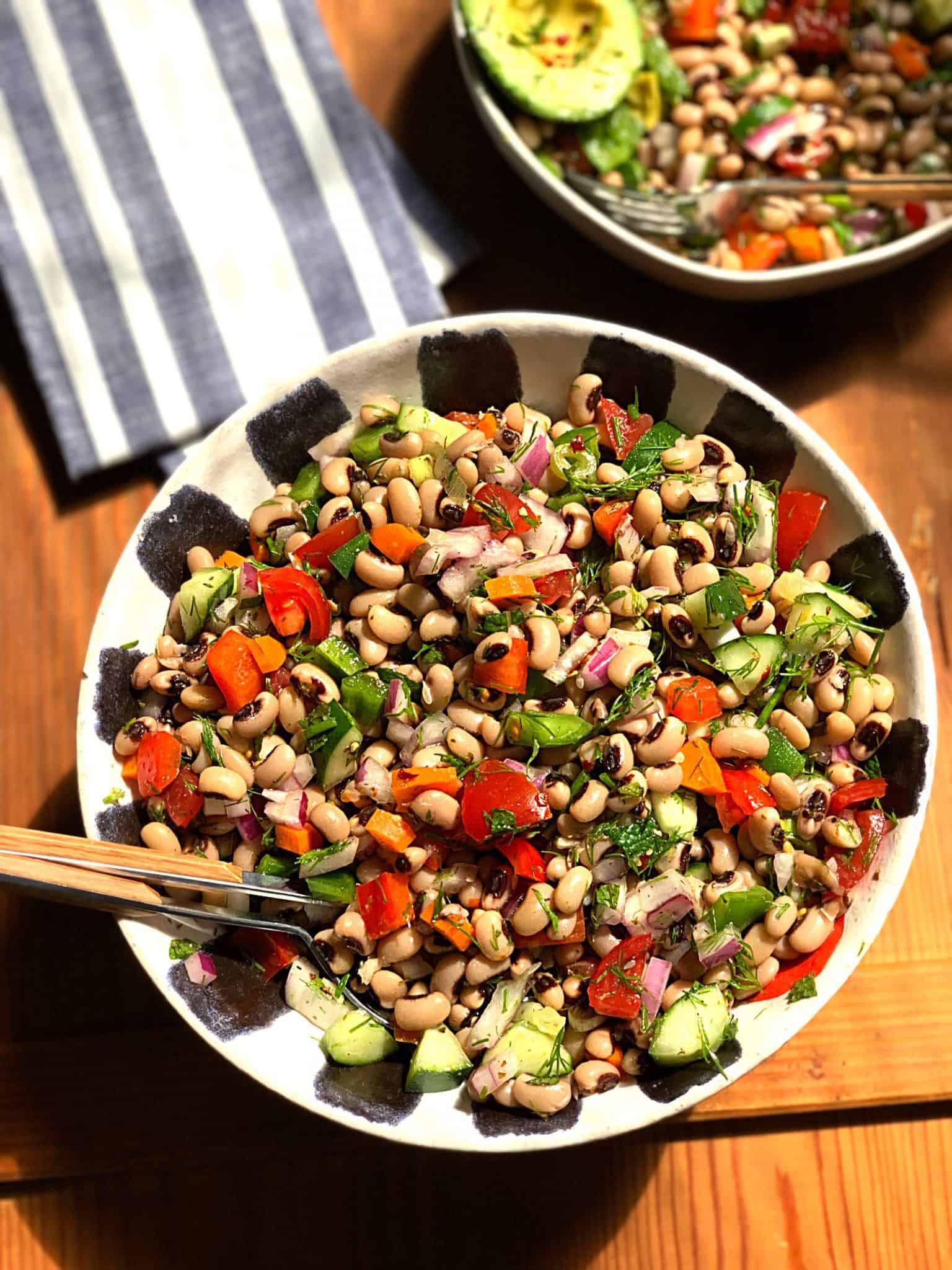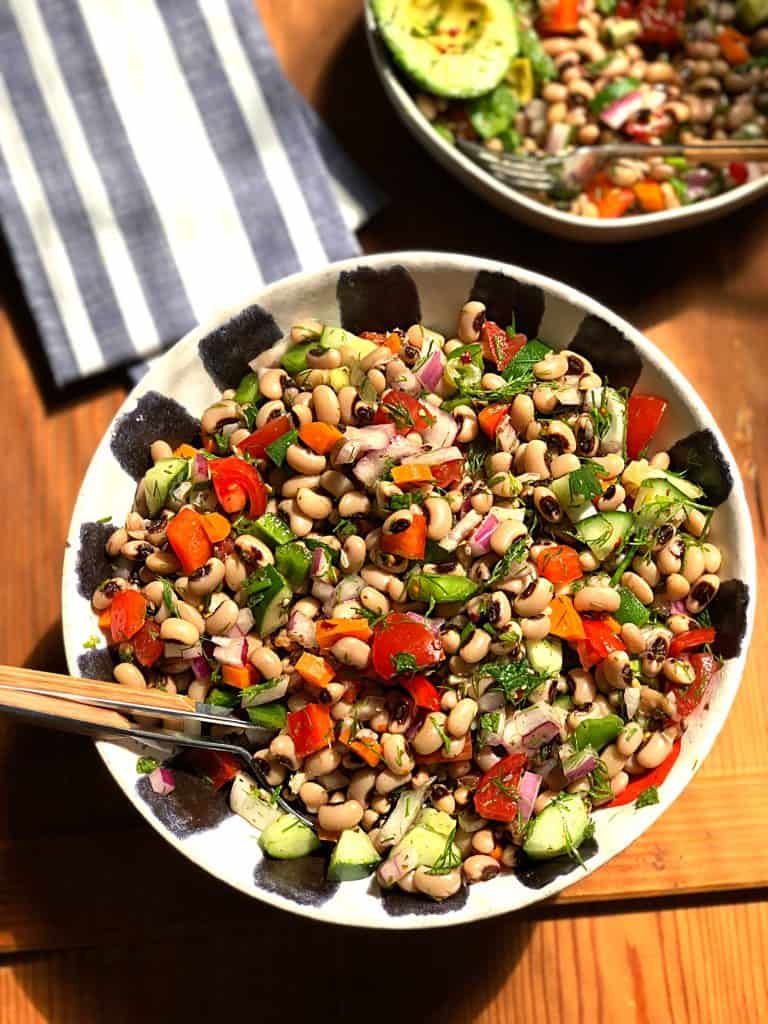 I truly love black-eyed peas, they are summery and cute and friendlier than other kinds of pulses. They don't need any soaking and can be very versatile.
With 4th of July weekend coming up what better then a fresh black-eyed pea salad to add to your barbecue. With lots of veggies, herbs and an olive & vinegar oil dressing it tastes like summer in a bowl. It's a delicious fresh side dish to a burger or hot dog or even a grilled juicy piece of salmon.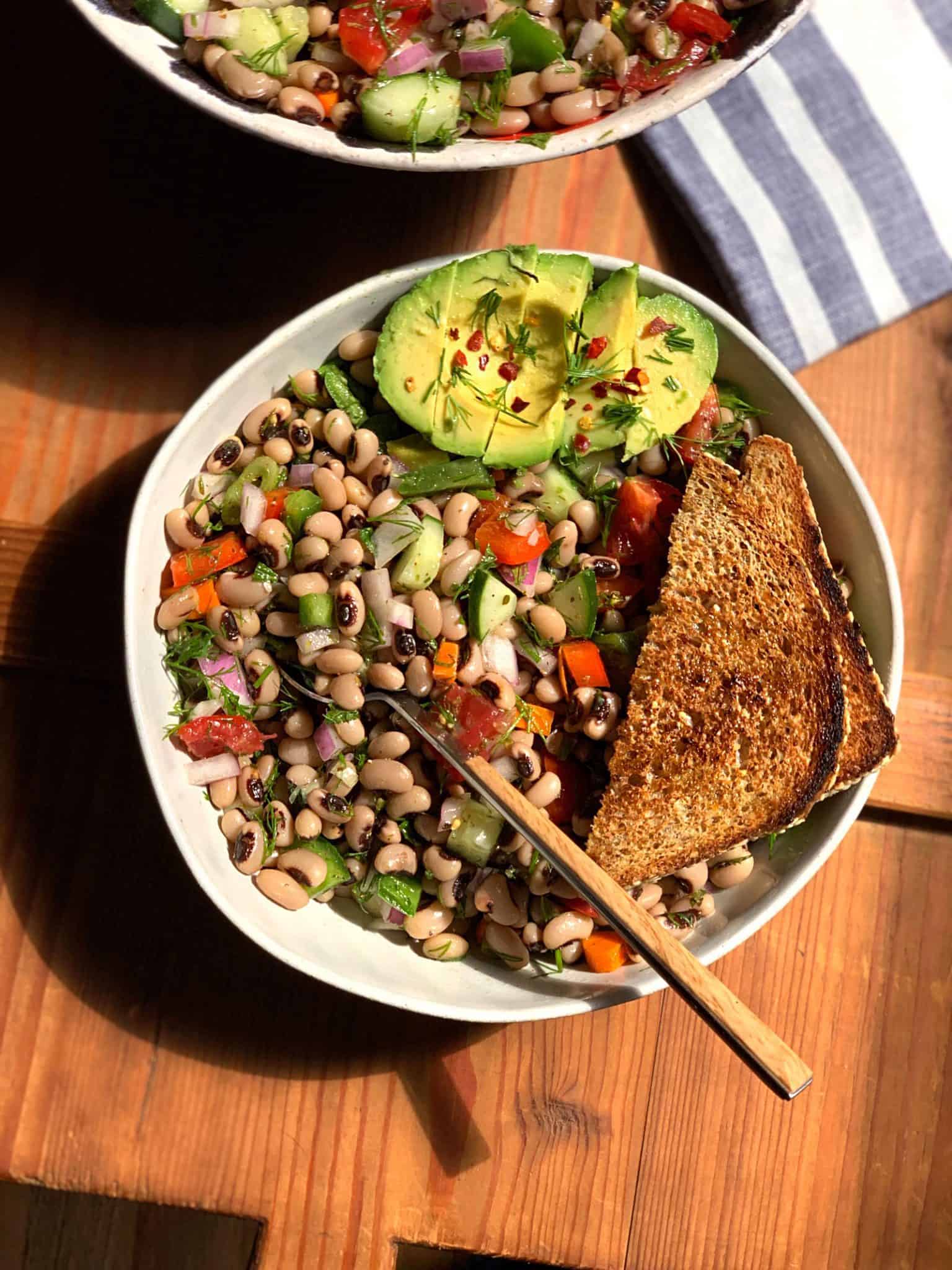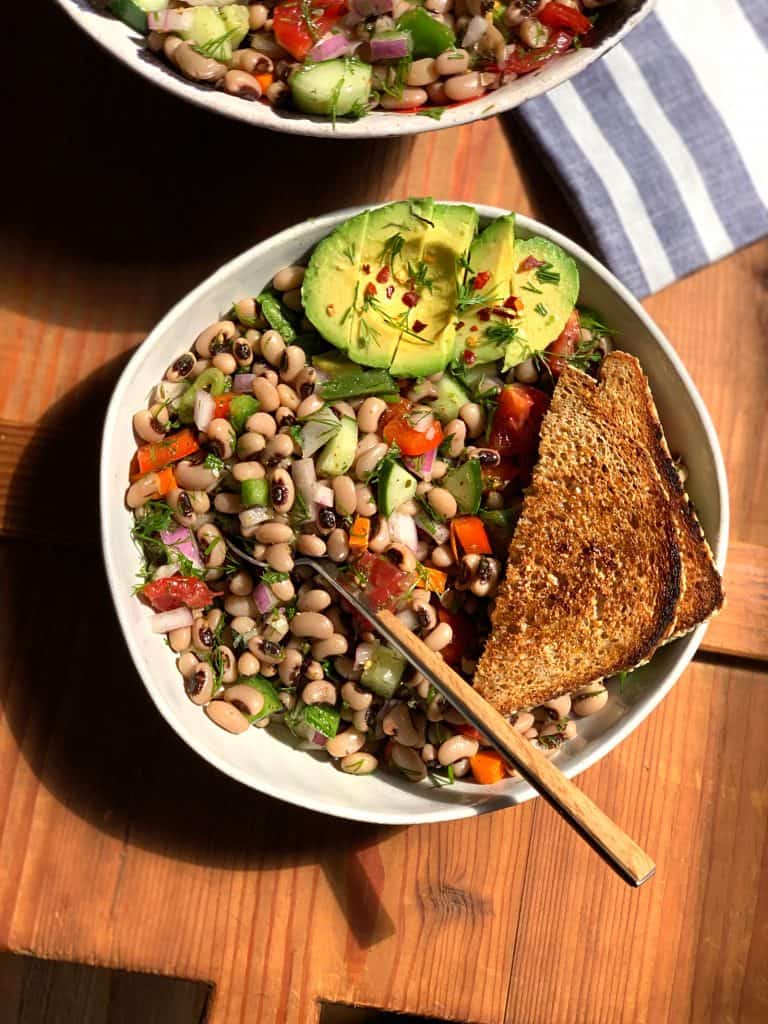 The recipe is vegan and can be transformed to fit your needs. If you are not on the vegan bandwagon you can add pieces of crispy bacon or prochuitto. Small balls of fresh mozzarella can be a great addition too. Or add feta cheese. Tweak the dressing to your liking as well. Add 1-2 tsp balsamic vinegar for more sweetness or even make a traditional vinaigrette dressing.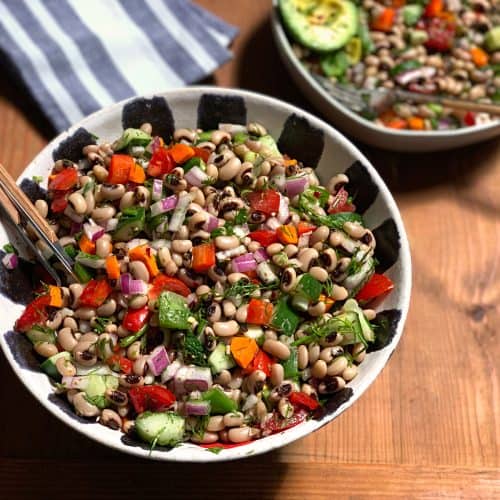 Ingredients
Serves 12+

1

lb

black -eyed peas

1

onion finely diced

3-4

avocados diced

8

campari tomatoes diced

4 if using regular size tomatoes

1

red bell pepper diced

1

green bell pepper diced

1

large cucumber diced

1

large carrot diced

2

handfuls fresh mint finely chopped

2

handfuls fresh basil finely chopped

zest of one lime

zest of one lemon

for the dressing

1/ 2

cup

extra virgin olive oil

1//4

red wine vinegar

1-2

pinch

greek oregano

1-2

pinch

of sea salt

1 -2

pinch

chili pepper flakes

fresh ground pepper
Instructions
Add the black eyed peas in a large pot with plenty of water and boil them for 30-40 min or until fully cooked and soft (but not falling apart).

Rince them well, drain well and set them aside too cool completely.

Make your salad dressing. Mix all ingredients in a bowl or a mason jar very well. Set aside.

Dice the veggies. If you can leave the avocados last and once you dice them sprinkle a little lemon juice on them until you are ready to mix them in the salad. (Keeps them from getting brown)

Once the black-eyed peas are cooled down completely add them in a large salad bowl. Add all the diced vegetables and the herbs and mix well. Add the salad dressing. Adjust salt and pepper to taste. Mix well 2-3 times so the dressing goes all over well. Enjoy!
Notes
I prefer to make this salad the day before, let it sit in the fridge and then one hour before guests arrive I take it out and let it get to room temperature.
Did you like this recipe?
Mention @thegreekfoodie__ or tag #thegreekfoodie__